Definition
Domestic violence is defined by the fact that one member of a couple* seeks to gain power over the other by any means necessary[1]. It can occur within a marital, extramarital, or romantic relationship, at any stage of life[2].
Domestic violence does not result from a loss of control. On the contrary, it is a chosen means to dominate a person and assert power over them.[3] It is indeed a choice because men with violent behaviors do not exhibit them in all areas of their lives, nor in all situations, nor 24 hours a day. They frequently opt for non-violent solutions, even when faced with emotionally intense events. Therefore, their violence is not a result of who they are as individuals, but rather what they choose to do. [4]
*Domestic violence can be present in all types of relationships, whether heterosexual or homosexual (gay or lesbian), and regardless of gender identity. Each partner can experience violence in a relationship. However, since 80%[5 ] of domestic violence victims in Canada are women, and we are a women's shelter, we choose to address the issue of domestic violence from the perspective of violence perpetrated by men against women. The model remains the same for all couples.
[1] Regroupement des maisons pour femmes victimes de violence conjugale, Comment se manifeste-t-elle? http://maisons-femmes.qc.ca/? page_id=182[2] Gouvernement du Québec (1995), Politique d'intervention en matière de violence conjugale : Prévenir, dépister, contrer la violence conjugale. Québec: Comité interministériel de coordination en matière de violence conjugale et familiale, p.23[3]Gouvernement du Québec (1995). Domestic violence intervention policy: Prevent, detect and counter domestic violence. Québec: Comité interministériel de coordination en matière de violence conjugale et familiale, p.23[4]Table de concertation en violence conjugale et agression à caractère sexuel de Laval (2011), Brisez le Silence, Laval, p.16[5 ] Maire Sinha (2013), Juristat article – Family Violence in Canada: A Statistical Profile 2011, Statistics Canada, p. 3
The cycle of domestic violence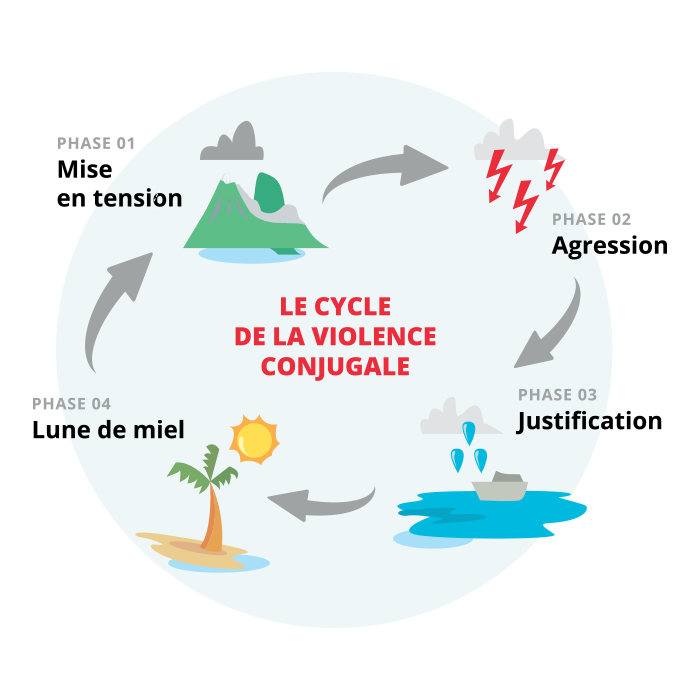 Sources: Regroupement des maisons pour femmes victime de violence conjugale (2006), La violence conjugale… c'est quoi au juste? p.21; Institut national de santé publique (2001-2016), Trousse média sur la violence conjugalehttps://www.inspq.qc.ca/violence-conjugale/comprendre/de-quoi-parle-t-on#cycle
The spiral of violence
Over time, spouse control will increase. Violent outbursts will appear with increasing frequency and intensity, sometimes leading to murder. The more the cycle repeats, the stronger the violent man's grip on the woman will become. Gradually, he will no longer need to justify his actions; the victim will do it herself. After a while, there will be no more "honeymoon phase", and it will transition from "justification" to "building tension," leaving the woman without any respite.
Sources: Table de concertation en violence conjugale et agression à caractère sexuel de Laval (2011), Brisez le Silence, Laval, p.16
Types of domestic violence
There are different forms of violence, and a person can be a victim of only one, or they can experience several at the same time. It is also possible for certain forms of violence to disappear and be replaced by others over time.
Verbal Violence: The Most Normalized
Insults, sarcasm;
Degrading and humiliating remarks;
Threats, blackmail;
Brutal orders;
Threatening tone of voice, shouting, whispering.
Psychological violence: The most subtle
Criticism, blame, devaluation;
Denigration, humiliation;
Contemptuous attitudes and remarks;
Indifference, negligence;
Silences;
Violence against objects and animals.
Notes: Psychological abuse can be difficult to recognize. It leaves no trace on the body. It is difficult to detect by both those around and the victim.
It destroys one's self-esteem and leads to feeling confused and self-doubt.
Physical violence: the most publicized
Shoving, pushing;
Hair pulling;
Bite;
Gripping arms, neck;
Throwing objects;
Threatening with a weapon;
Burn ;
Hit;
Kill.
Note: This is the best-known form of violence, and the easiest to recognize. When it occurs, psychological or verbal abuse is usually already present in the couple's relationship.
Sexual violence: The most taboo
Forcing a woman through harassment, intimidation, manipulation, or brutality to engage in sexual activities, with the perpetrator or with others;
Impose degrading acts;
Forcing your partner to wear erotic clothing or watch pornographic material;
Denigrate a woman's looks and sexual abilities, humiliate her by comparing her to other women;
Push a woman to have unprotected sex despite the risks;
Prevent your partner from using contraception.
Note: Forcing your partner to have sex is rape. Marital rape has been recognized as a criminal offence since 1983.
Economic violence: widespread but little-known
Require accountability for every expense;
Preventing the individual from having their own bank account;
Forcing or preventing the person from working
Demanding someone's pay;
Stealing or forcing to steal or commit fraud;
Incurring debts without consent
Creating financial dependence
Note: This form of violence reduces a woman's autonomy. She's afraid she won't be able to leave her partner, as she'd be left with no means of support.
Social violence
The partner constantly belittles people who are important to her;
The spouse denigrates the wife's hobbies, activities and sports;
Preventing her from communicating via phone or in person with her family or friends;
Prohibiting her from receiving visitors;
Controlling her e-mails and phone calls;
Note: This form of violence develops gradually. Little by little, the woman finds herself alone and isolated.
Spiritual violence
Forced adherence to rituals or religious practices;
Control over religious practices;
Denigration of beliefs.
Source: Table de concertation en violence conjugale et agression à caractère sexuel de Laval (2011), Brisez le Silence, Laval, p.11-13